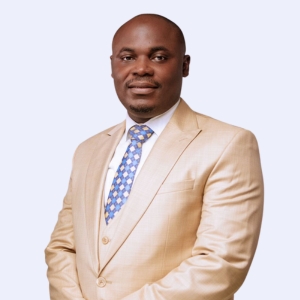 Founder and Managing Director
Dr. Oyeleke Ajiboye is the Founder and Managing Director of Efficacy Construction Company Limited. He has decades of experience in the Real Estate Development, Construction, and Project Management Fields. He has numerous degrees in different fields ranging from Electrical Engineering, Civil Engineering, Construction Management, Housing and Estate Development, Behavioural finance, and Social Housing to Law.
Dr. Oyeleke started his preliminary education at Niger Pre-Age International Home School, Ipaja, Lagos; this was followed by his secondary education at Command Day Secondary School, Ikeja, Lagos,and later at Community Grammar School, Ipaja, Lagos.He continued his tertiary education at the Lagos State Polytechnic where he studied Electrical/Electronics Engineering before going further to receive a bachelor's degree in Electrical/Electronics Engineering from the prestigious University of Lagos, Akoka.
He bagged a Ph.D. in Housing and Estate Development and doing a second PhD in Behavioral Finance at the Aston Business School, Birmingham, UK. Ajiboye has also acquired several post-graduate degrees – a Master's degree in Project Management from the Project Management College, UK, an MBA in International Business Management from Lincoln University, Oakland, California, the United States of America, an LLM in International Commercial Law from the University of Salford, Manchester, UK.
He is an alumnus of Executive Education at Harvard University, MIT, and TUFTS, where he took courses on Negotiation, Business Leadership, Mediation, Strategy, and Business Implementation. Also, an Alumnus of the John F. Kennedy School of Government, Harvard University where he studied Investment Decisions and Behavioural finance.
He is the first Nigerian to complete the Advanced Masters class in Negotiation and Leadership at the Harvard Law School, USA. It is noteworthy to state that Oyeleke was the President of the Nigeria Fellowship of Evangelical Students (NIFES) at the University of Lagos, where he mentored over 50 students in different institutions in Lagos every semester.
He is a registered engineer of Council for the Regulation of Engineering in Nigeria (COREN), a member of the Nigeria Society of Engineers (NSE), the Institute of Engineering (IET) in the United Kingdom, National Society of Professional Engineers (NSPE), American Society of Civil Engineers (ASCE), Institution of Civil Engineers (ICE), Association of Project Management (APM), US Green Building Council, USA, and international Facilities Management Association (IFMA).
He is a Fellow of Harvard Negotiation Institute, USA; Fellow of the Joint Centre for Housing Studies, Harvard University, USA; Fellow of the Institute of Credit Administrators of Nigeria. He is a big advocate of personal development which is evident in his continuous quest for knowledge.
He is a Fellow of the Institute of Credit Administrators of Nigeria. A Member of the US Green Building Council, USA amongst many others.